Discover the Power of Turing Smart Series AI-Powered Home Security Cameras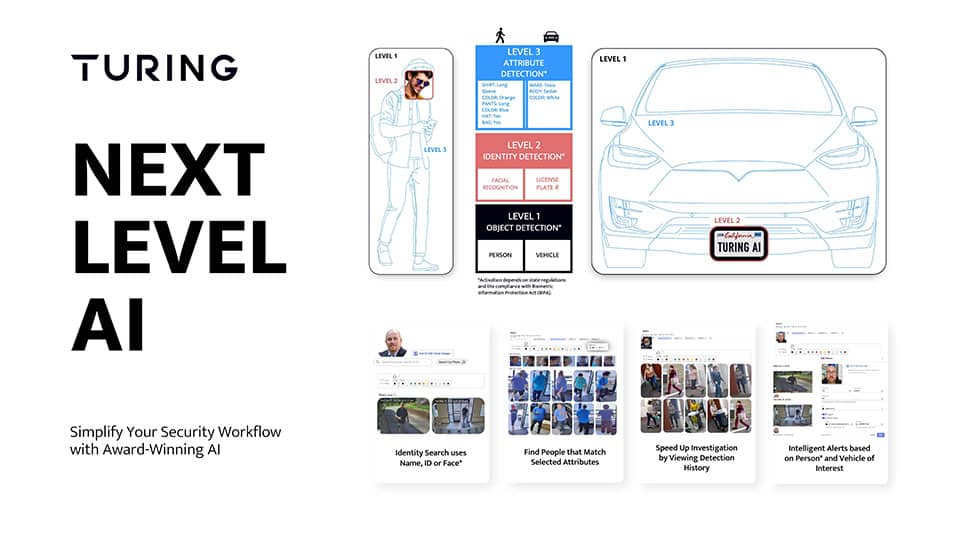 In today's ever-evolving world, more and more consumers are seeking AI-powered security systems to revolutionize their home safety. And it's no wonder why! These cutting-edge solutions offer personalized intelligence and flexible options that perfectly align with your lifestyle needs.
Did you know that the smart home security camera market is projected to reach a staggering USD 30.38 billion by 2030? Among the global regions, North America leads the way in embracing smart home security cameras. As part of this exciting trend, AI-powered home security cameras have gained immense popularity. These innovative cameras provide access to premium features that genuinely enhance the consumer experience, including real-time alerts, motion detection, video monitoring, sophisticated analytics, and data collection.
Imagine having a security system that understands your preferences, adapts to your needs, and keeps you in the loop at all times. AI-powered cameras do precisely that! They offer homeowners unparalleled visibility into their surroundings, effectively addressing concerns faster and more efficiently than standard systems. With state-of-the-art features, these cameras deliver enhanced performance, efficiency, and, most importantly, greater peace of mind. Now, you can truly relax and enjoy your home to the fullest.
Within the realm of security cameras, AI brings a new level of accuracy and effectiveness. It can detect and record various events and potential threats with unparalleled precision. Unlike traditional cameras, AI can distinguish between significant and insignificant events, minimizing needless notifications that could potentially annoy you. Say goodbye to alerts for raccoons roaming your yard or cars passing on the street. AI ensures that you only receive notifications that matter to you, allowing you to focus on what's truly important.
By integrating security systems with mobile devices and apps, you gain complete control and real-time monitoring capabilities. You can conveniently manage your system, save and share security clips, and enjoy seamless connectivity between your mobile devices and surveillance system. Imagine receiving a pop-up notification on your home control panel whenever there's an AI-filtered event. You can swiftly take action and address any situation, ensuring the safety of your loved ones and your property.
The latest security cameras, such as the Turing.AI Smart Series, employ advanced AI technologies and algorithms. These cameras leverage machine learning algorithms to provide human and vehicle AI technology, all processed directly on the camera's powerful processor. The network video recorder (NVR) within your home or business manages the metadata from the cameras, enabling different types of event recording and playback.
Additionally, AI technology utilizes software programs that analyze camera images, enabling the detection of unusual behavior. You can set sophisticated rules tailored to your preferences, going beyond simple person or vehicle detection. For example, you can track the direction of vehicles and set specific alerts for vehicles approaching or entering your property. These advanced technologies empower you with relevant insights and greater control over your home's security, ensuring you feel safe and comfortable whether you're at home or away for an extended period.
Personalize your safety with AI-powered security cameras that cater to your expectations. Set individual preferences to receive notifications only for events that truly matter to you. No more constant interruptions for insignificant occurrences, and no more worries about missing crucial alerts. Furthermore, AI-powered home security cameras allow you to upload footage to the Cloud, providing a convenient way to store, edit, and review it whenever needed.
For homeowners with multiple properties or Airbnb rental properties, a robust home security system is of utmost importance. Imagine being able to trust your system to protect and monitor your vacant property reliably, receiving alerts when potential threats arise. Whether you're going on vacation or spending time at another property, you deserve the peace of mind that comes with knowing your homes are secure and protected.
Ultimately, the latest AI-powered security cameras empower homeowners with unparalleled control over their home security and data. They bring a sense of peace and comfort to you and your loved ones, ensuring that your home remains the safe haven you deserve. While security cameras may not come at a low cost, the right ones, integrated into a comprehensive AI-powered home system, provide unmatched protection. It is essential to invest the time and effort into finding and installing the perfect AI-powered security system.
At Smarttech Security & Automation, we specialize in delivering top-of-the-line AI-powered security camera solutions tailored to your unique needs. Our experts are ready to provide you with a free security camera installation quote, ensuring that your home receives the highest levels of protection. Contact us today and experience the future of home security with Smarttech Security & Automation.