Enhance the Security of Your Restaurant or Bar with a Reliable Surveillance System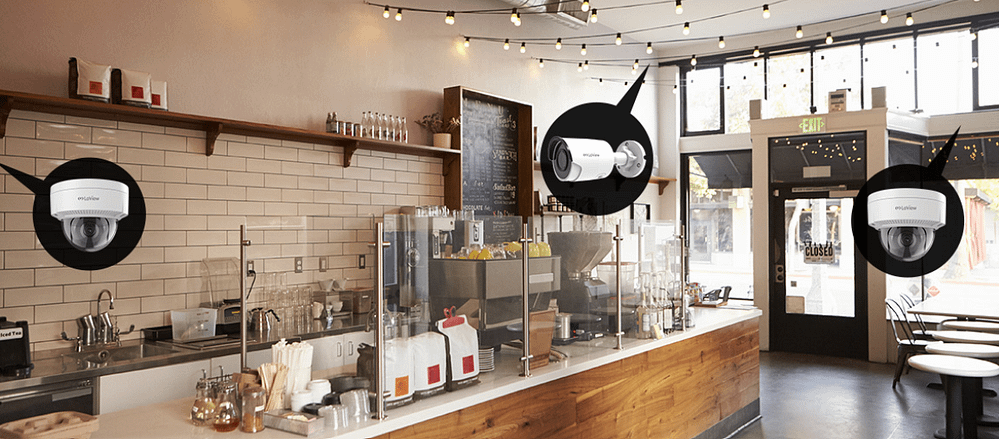 As a business owner in the food and beverage industry, you understand the importance of maintaining a safe and secure environment for your customers and staff. With the ever-present risks of theft, employee misconduct, and potential lawsuits, it's crucial to take proactive measures to protect your establishment. That's where a top-of-the-line security camera system comes into play.
Did you know that approximately 75% of all restaurant theft is committed by employees? This staggering statistic accounts for nearly $6 million in losses for U.S. restaurants every year. Installing a reliable security camera system is a proactive step towards minimizing such losses and safeguarding your business.
Beyond theft prevention, a well-designed surveillance system offers various additional benefits. It can help you identify and address employee misconduct, ensure proper food handling practices, and mitigate the risks of slips, falls, and altercations on your premises. Moreover, modern surveillance technology enables you to monitor your restaurant remotely, giving you peace of mind even when you're away on vacation or managing other responsibilities.
When employees know they are being watched, they tend to be more productive and accountable, resulting in improved overall performance. By implementing a comprehensive surveillance system, you can foster a culture of responsibility and integrity within your team.
Considerations for Installing a Restaurant Surveillance System
Before installing a security camera system, it's essential to evaluate the specific areas within your restaurant or bar that require monitoring, as well as the lighting conditions in each location. This assessment will help you determine the ideal type and quantity of cameras needed to effectively safeguard your business.
Let's explore some key areas and their respective considerations when installing security cameras:
Entrance Ways: The entrance and exit areas experience the highest foot traffic in any restaurant or bar. Identifying individuals in case of incidents is crucial. Thanks to high-definition IP cameras, capturing clear images of everyone entering or exiting your establishment is no longer a challenge. Opt for low-profile, high-megapixel dome cameras that seamlessly blend with your decor while providing excellent coverage.
Kitchen: The kitchen is the heart of your restaurant, making it vital to ensure compliance with health codes and standards. Installing cameras in the kitchen allows you to monitor operations, stock inventory efficiently, minimize theft, and reduce food costs. Choose weatherproof cameras with an IP66 rating to withstand the high temperatures, oil, and steam typically found in kitchen environments. Vandal-resistant dome cameras offer added protection against tampering.
Main Dining Area / Bar: The main dining area and bar are central spaces where customers spend the majority of their time. Installing surveillance cameras in these areas is crucial to monitor constant traffic, money exchanges, and potential dine-and-dash scenarios. Opt for low-profile dome cameras that seamlessly blend with your decor without drawing excessive attention. Fisheye surveillance cameras provide a wider field of view but may come at a higher price.
Cash Register: Security cameras near cash registers are essential for capturing money exchanges accurately. Fixed lens cameras may not provide a narrow enough field of view to capture individual bill amounts. Consider using motorized varifocal cameras that allow zooming in and out, enabling clear visibility of transactions. Dome cameras are ideal for this area and can be positioned right above or at a slight angle to the register.
Parking Lot: Your restaurant's parking lot is another critical area where surveillance cameras are necessary. By installing cameras outside your establishment, you can monitor people entering, address parking lot incidents, and detect suspicious activity effectively. Choose IP66-rated cameras designed to withstand changing weather conditions. For high mounting positions, opt for bullet cameras, while vandal-resistant domes are recommended for lower areas within reach.
Other Considerations:
In addition to the specific camera locations mentioned above, it's essential to plan for a few other factors when selecting and placing your surveillance cameras. Avoid installing cameras in private areas like bathrooms and breakrooms, as this may lead to privacy concerns and potential legal issues. Ensure that audio recording complies with the laws of your state, as regulations vary. Lastly, aesthetics play a role in maintaining the ambiance of your restaurant. Domes are often favored due to their unobtrusive design, while mini and low-profile options provide additional discretion.
Choose a Comprehensive Surveillance System Tailored to Your Needs
By thoroughly assessing your restaurant's camera requirements and locations, you may find that a combination of dome and bullet cameras is necessary to create an effective surveillance system. To simplify the process, we offer pre-built packages ranging from 4 to 32 cameras, carefully curated to include both dome and bullet options. Our motorized bullet and dome packages provide exceptional versatility and performance, ensuring comprehensive coverage of your establishment.
We hope this article has provided you with valuable insights into the types of cameras, recommended locations, and considerations to keep in mind when selecting a surveillance system for your restaurant. By investing in a reliable and modern security camera system, you are taking a proactive step toward enhancing the safety, security, and profitability of your business.